State Guests visiting India on the occasion of the Republic Day
Since 1950, India has been hosting head of state or government of another country as the state guest of honour for Republic Day celebrations in New Delhi. During 1950-1954, Republic Day celebrations were organized at different venues (like Irwin Stadium, Kingsway, Red Fort and Ramlila Grounds). It was only starting 1955 when the parade in its present form was organized at Rajpath. The guest country is chosen after a deliberation of strategic, economic and political interests. During 1950s-1970s, a number of NAM and Eastern Bloc countries were hosted by India.
<![if !vml]>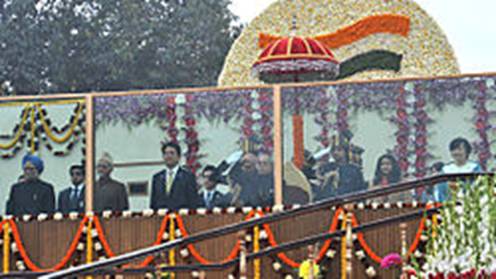 <![endif]>
Japanese PM- Shinzo Abe -in India's 65th Republic day, 2014
with the Honorable President of India Pranab Mukherjee.
In the post-Cold War era, India has also invited several Western leaders on a state visit during the Republic Day. It is notable that before India fought bloody wars with China and Pakistan, leaders from these countries were invited as state guests for the Republic Day celebrations. Interestingly, Pakistan Food and Agriculture Minister was the second state guest from that country for Republic Day in 1965, a few days after which the two countries went to a war. Countries which have been invited multiple times include India's neighbours (Bhutan, and Sri Lanka), defence allies (Russia/USSR, France and Britain), trade partners (Brazil) and NAM allies (Nigeria and erstwhile Yugoslavia). France has the distinction of being the guest of honour for the maximum (four) number of times followed by three visits each from Bhutan, Mauritius and another one USSR/Russia.
.